Saturday, May 13
12 – 5pm
on the Center Lawn
at the
Jackson Hole Center for the Arts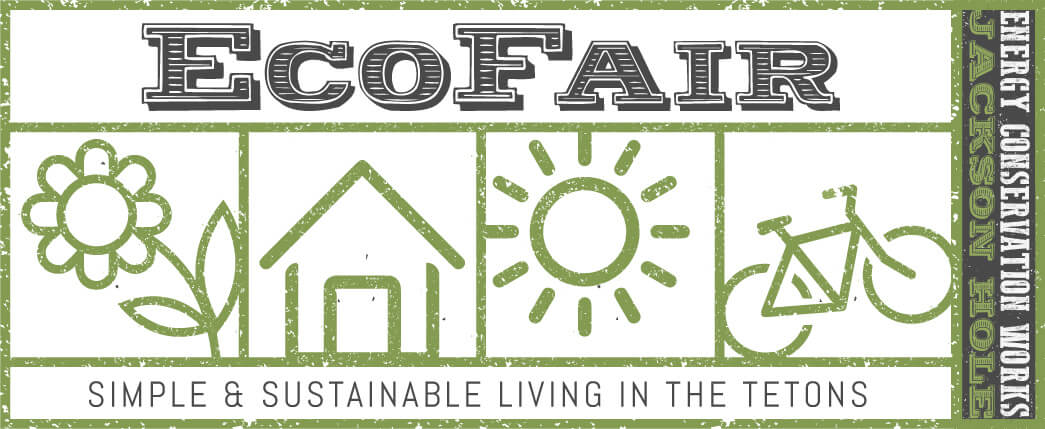 EcoFair is proudly supported by
The Annual Jackson EcoFair – always the 2nd Saturday in May
Hosted by Energy Conservation Works, this traditional spring event in the Tetons has drawn roughly 2,000 participants and fairgoers each spring.
EcoFair has celebrated environmental stewardship and featured sustainability-oriented booths, live music, local food, demonstrations, kids' activities, recycling education, and more for nearly 20 years.  As we return to this annual celebration after two years away, we have a new understanding of what it means to be a part of a community. We look forward to welcoming you back to celebrate simple and sustainable living in the Tetons. 
Huge thanks to our recurring EcoFair sponsors: Jackson Hole Airport, Jackson Hole Travel & Tourism Board, Town of Jackson, Teton County Integrated Solid Waste & Recycling, Jackson Hole EcoTour Adventures, High Country Linen Service, and Teton Conservation District!
In the spirit of EcoFair, please take alternative transportation to the event (and everywhere else you go)!
Don't forget to bring a water bottle!
There are NO DISPOSABLE CUPS at EcoFair.
Thirsty for beer? Event sponsor Snake River Brewing will pour into whatever vessel you've brought from home, you can buy a brand new insulated stainless steel cup to support the JH Zero Waste Project, or drink out of one of our stainless cups and return it when you're done.
Volunteer help is always needed – Join our Green Team!
EcoFair volunteers are provided with a free lunch and bragging rights! If you are interested in being a part of the EcoFair Green Team, contact our Green Team Captain and get on the team!
EcoFair has something for everyone
bike services, activities, food & beverage, live music and more!